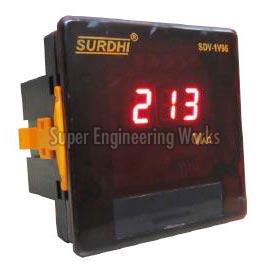 Digitization is spreading like light and the 21st Century is considered to be Digital age. Digitization is being used in everything from meters in houses, Automobiles, airplanes, etc. Every signaling device uses digital panel meters.
Industrial and electrical companies use constantly Digital Panel Meters for monitoring temperature, pressure, voltage, and current, etc. These Digital Panel Meters can measure this accurately error-free. However, many digital panel meters are customized as per the industrial needs. There are advantages of uses of Digital panel Meters as:
• Accuracy
Digital Panel Meters are providing accurate data. Due to the presence of computer-generated numeric displays, it is easy to take readings accurately against any voltage or current. They reduce reading and interpolation errors. This accuracy helps to give you maintain your machinery accurately and manufacture it easily.
Compare prices online from different websites to get the best deals. But do not compromise with the quality service as hiring cheap providers could lead to cheap service. Hiring a good quality will do the job efficiently and on time within your budget. Many Digital Panel Meters manufacturers offer quality services at an affordable price.
• Durable and Handy
Digital Panel Meters are quite durable & handy. They are handy and can be brought to any place, allowing you to reach difficult places also. They are easy to maintain and they have long life-span. They are quite tampering resistant and can be shifted easily.
There are lots of Digital Panel Meters Exporters who are exporting meters easily from India to other countries. Due to durability and handy, it can be fitted to any equipment without any difficulty.
• Modular Architecture
Digital Panel Meters can be easily configured in any device without any additional machinery or equipment. Thus due to the modular architecture of Digital Panel Meters, they are easy to use and can replace any analog panel meters in many applications. This manufacturer of digital panel meters makes it easy to handle and can be export to anywhere in the world.
• Overload Protection
Another benefit of digital panel meters is a defensive mechanism against Overload which makes it useful in electrical equipment. These Digital Panel Meters can expose them to a neutral position. Thus this Overload Protection feature makes them unique to use them over a vast number of industrial products. It can also prevent damages to the meter if the wrong range or specifications is selected.
Industrial Manufacturing equipment usually uses accurate meters to give exact data. The availability of unique feature of showing error-free data and durability will make it use it in various products. Digital Panel Meters gives accurate output for processing and recording and various computer-controlled applications.
It can also be used in testing continuity, capacitors, transistors, and many more products. They have very high impedance and making it use it widely in industrial products. Thus you can buy the products without looking further at its specifications, and with the presence of durability, this can be ordered anywhere in the world from Digital Panel Meters Exporters.